In an ideal world, the air is clean. This is a vision for the future that world leaders are striving to achieve by increasing reliance on renewable energy sources. Reducing fossil fuel consumption is paramount to this goal. In order to reach this utopia, we have to reduce pollutants as much as possible to buy ourselves more time and improve our environment.
The California Air Resources Board (CARB) was established in 1967 with the goal of attaining and maintaining healthy air quality. This organisation still exists to this day and, in many ways, forms the guidelines for the rest of the world to follow.
As a major contributor to climate change, the motor vehicle industry must undergo some dramatic changes in the coming years, with manufacturers aiming for the full electrification of cars by 2040, most even aiming for 2025.
Emissions have been under the spotlight for many years now. It would be easy for the world's leaders to simply tell manufacturers to clean up their act in one fell swoop, however this would halt production and send everyone running (certainly not driving) to the hills. Progress must be made at a steady and achievable pace. The Euro standards aim to put targets in place which will gradually reduce both exhaust and evaporative emissions. By applying pressure in bite-sized chunks, manufacturers have the opportunity to make the necessary changes and get the units required out of the door, plus the air quality gets better, technology advances, and efficiencies are made.
As you would imagine, exhaust fumes are the major contributor. Evaporative emissions are the lesser-known enemy. Components in air conditioning and fuel systems leak, and are under the spotlight in a SHED (Sealed House for Evaporative Emissions Determination) test. This test, as the name suggests, will place a vehicle in a sealed box for a set period of time, changing the ambient conditions to simulate real-world scenarios (eg. raising and lowering the temperature). The evaporative emissions are measured and recorded to ensure the increasingly stringent standards are met before a vehicle hits the marketplace. After this, each and every vehicle must be proven to adhere to the conditions. In every vehicle destined to hit the streets, elements such as the fuel system components and air conditioning systems require thorough testing to ensure compliance.
Evaporative emissions have become less lenient over the years, as demonstrated in the following table: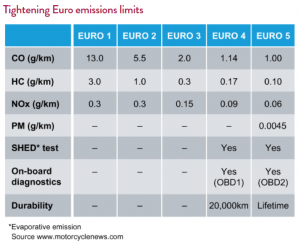 These above standards have been creeping into the architecture of modern motorcycles. Many models have been banished to the history books as they do not comply. Others, such as the 2019 Ducati Diavel pictured below, have embraced the changes to make them a feature – the flush and inset exhaust system may be mainly functional, but has also been designed with appearance in mind.
Euro 5 is coming to the motorcycle in 2020, and with good reason. With 2.8 million motorcycles registered in Europe from 2017 – 2019, meaning an estimated total of 36 million motorcycles on the roads in 2018, the numbers are stacking up – small changes can and will make huge differences.
A solution to this problem is helium leak testing. Manufacturers are confident in the leak tightness of their products, however demonstrating this is a real challenge. Proving something doesn't leak at a molecular level requires specialist machinery. Production pressures and output targets, ultimately TAKT time requirements, mean that rudimentary testing methods are not a viable option. Holding a fuel tank underwater for a given amount of time and watching for bubbles will enable an operator to find a hole if they are looking closely enough. Finding a hole that is 15 microns in diameter, over a 1.5mm wall thickness (The current parameters set by the Euro standards), requires some technological intervention, particularly if you are vulnerable to bottlenecks holding up production; time is money, and the more units you can get out the door, the better things will be for all concerned.
For many years Vacuum Engineering Services have supplied helium leak detection machines for the purpose of finding the smallest of leaks (Anything down to a minuscule 1 x 10-9 mbar litres per second). As a long-standing trusted supplier to many across the automotive industry, there's a good chance the components of the car you travelled in today were tested in one of our machines. VES understand the pressures of low cycle times and have supplied machines which adhere to these stringent requirements. We have the know-how, experience and resources to take your project requirements from inception to full realisation, plus the continuing global support to service, maintain, upgrade and refurbish throughout the lifetime of the machine.