The Science Behind Leak Testing
Discover the Future of Reliable Heating & Cooling Systems
Dive deep into the world of leak testing with our comprehensive eBook, authored by our very own Chartered Engineer, Andrea Whittle. Explore the intricacies, challenges, and innovations of leak testing, specially tailored for the burgeoning Heat Pump sector.
Expert Insights:
Gain knowledge from Andrea Whittle, a leading figure in leak test engineering with decades of hands-on experience.

Comprehensive Coverage:
From the fundamentals of leak detection science to cutting-edge innovations, get a holistic view of the subject.

Real-world Case Studies:
Understand the tangible impact of effective leak testing through practical examples.

Future of Heating:
Learn how leak testing stands as a pivotal practice in ensuring the efficiency and reliability of heat pumps.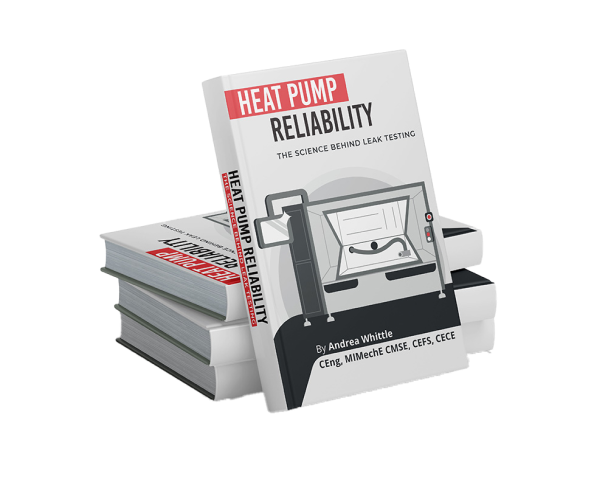 The significance of leak testing in today's climate.

Traditional vs. advanced leak detection methods.

The role of IoT and smart sensors in the future of leak detection.

Strategies to optimise heat pump performance through reliable leak testing.

A detailed glossary to demystify technical jargon.
Download Now & Shape the Future of Sustainable Heating
Don't miss out on this opportunity to enhance your knowledge and get ahead in heat pump leak testing.
Enter your details in the form on the right

Hit submit and we will send you an email with a link to your eBook

Download the eBook and enjoy!